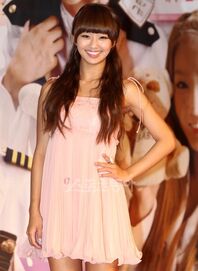 Kim Hyo Jung (born January 11, 1991; Hangul: 김효정) better known by her stage nameHyolyn (Hangul: 효린) is a South Korean idol singer and actress. She is best known as the leader of the girl group, Sistar and their sub-unit Sistar19.
Biography
Edit
Hyorin was born on January 11, 1991, in Incheon, South Korea. She was very weak as an infant.
In March 2011, Hyorin was a guest on Strong Heart where she revealed that she was born prematurely and weighed in at 4.2 kg (about 9 lbs) at birth. During her mother's pregnancy, water had filled Hyorin's stomach, which led her to become a premature birth. Bile was unable to be passed through her intestines, which eventually damaged her liver, causing abiliary atresia. Although the required surgery had low chances of sustaining life, Hyorin was able to survive the 10-hour long surgery.
A year later, however, she was diagnosed with intussusception (a medical condition where parts of the intestine folds over into another section of the intestine) and received surgery for enterectomy.[1]
Hyorin debuted with Sistar in 2010, with the single "Push Push".[2]
In early 2011, Hyorin and group member Bora formed as a sub-group Sistar19 with the single "Ma Boy".[3] Hyorin appeared in the variety show "Immortal Song 2" from June until September in the same year.[4] On the pilot episode, Hyorin was crowned the top winner. Due to her great vocal ability and stage presence on the show and other variety programs, she has been labeled as the Korean Beyoncé by some singers within country.[5][6]
On October 17, she released featured single "Ma Boy 2" with Electroboyz.[7]
As an MBC 2012 Lunar Year special, the variety show We Got Married spin-off "Pit-a-Pat Shake" aired its pilot episode featuring virtual idol couples experiencing dating life. Hyorin's partner was revealed to be Super Junior's Sungmin.[8] In the pilot, Sungmin and Hyorin performed traditional Korean opera.[9]
Recently, Hyorin has begun an acting career starring in the KBS drama "Dream High Season 2" as Nana, a famous idol from the fictional girl group HershE.[10]
For Hyorin's work with Sistar, see Sistar's discography.
Magic Drag (with. Jang Geun-suk) (2010)[11]
Who Are You To Me (2011)
I Choose to Love You (2012)
[edit]Television DramaEdit